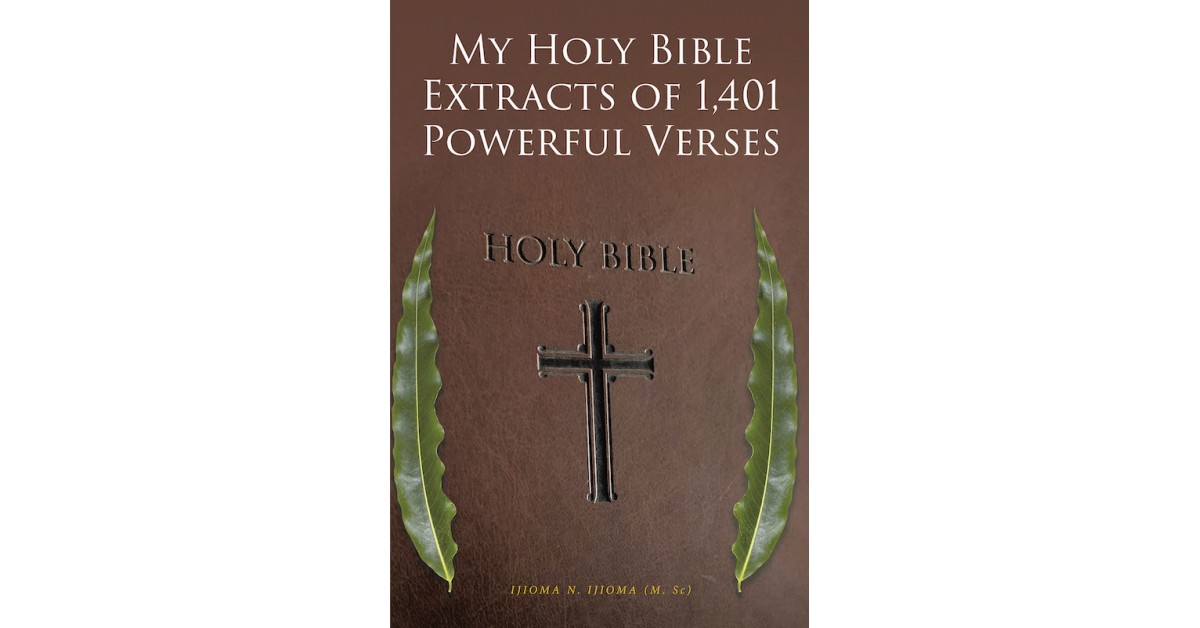 Recent release 'My Holy Bible Extracts of 1,401 Powerful Verses' from Covenant Books author IJIOMA N. IJIOMA (M. Sc) is a potent tool that contains over a thousand verses that will ignite reflection and thoughts to the readers as they meditate upon themselves and their faith.
Press Release – updated: Nov 4, 2020 06:00 EST
MOUNT JULIET, Tenn., November 4, 2020 (Newswire.com) – IJIOMA N. IJIOMA (M. Sc), a retired major general in the Nigerian Army, has completed his new book, "My Holy Bible Extracts of 1,401 Powerful Verses": a great collection of verses extracted from the Holy Bible that will lead the reader to reflect on his relationship with God and pursue a godly life.
IJIOMA writes, "The work My Holy Bible Extracts of 1,401 Powerful Verses started on January 2, 2004 when I commenced an intensive and in-depth daily reading of the Holy Bible. It covered all the 39 books of the Old Testament and the 27 books of the New Testament. It comprises of 824 powerful verses from the Old Testament and 577 powerful verses from the New Testament.
Each of the 1,401 powerful verses has either a question that pricks the conscience of the reader, excites him or her, and provokes in the reader the urge to review one's relationship with God. Interacting with some of the posers contained in this work will definitely lead to a sober reflection of the reader, as well as strengthen one's abiding faith in our Lord Jesus Christ. In addition to the questions, there are some explanations on some of the deep sayings of the Holy Book which most readers tend to misconstrue. Above all, this work will induce readers, particularly Christians, to take ownership in godly pursuits and to domesticate their relationship with God as against the lukewarm attitude of most Christians who treat God as an abstract being. This work is about the desire to draw near the God in us and to personalize our relationship with him. The work concludes with an afterword, which is a candid advice from the heart of the author to all readers."
Published by Covenant Books of Murrells Inlet, South Carolina, IJIOMA N. IJIOMA's new book is a brilliant read shared in the hope of drawing the people towards God the Father with the use of His powerful Scriptures. In this book filled with verses, the reader will find inspiration to get to know oneself, one's life, and one's Almighty God.
Readers can purchase "My Holy Bible Extracts of 1,401 Powerful Verses" at bookstores everywhere, or online at the Apple iTunes store, Amazon, or Barnes and Noble.
Covenant Books is an international Christian owned and operated publishing house based in Murrells Inlet, South Carolina. Covenant Books specializes in all genres of work which appeal to the Christian market. For additional information or media inquiries, contact Covenant Books at 843-507-8373.
Source: Covenant Books