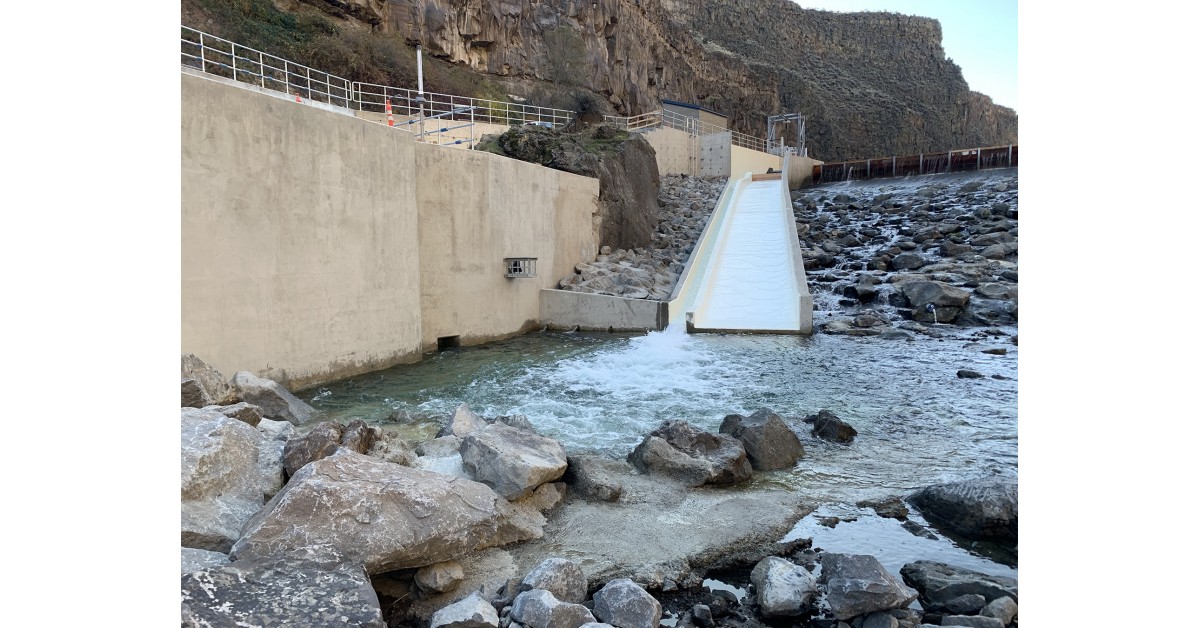 Press Release – updated: Oct 15, 2020 09:00 EDT
PORTLAND, Ore., October 15, 2020 (Newswire.com) – The Oregon Department of State Lands has honored Kleinschmidt Associates, along with the Deschutes Valley Water District (District) and the Crooked River Watershed Council, with the 2020 State Land Board Stream Award, recognizing a longtime collaborative effort to eliminate a major fish migration barrier in the Crooked River Watershed. Kleinschmidt served as Program Manager for the project to the District on this project.
The project, which raised the Opal Springs dam pool height and installed a fish ladder, opens 125 miles of Crooked River habitat for native steelhead and salmon. Project partners worked together for decades to support, fundraise, and advocate for completion of the project. Their efforts paid off. In November 2019 – just hours after completion of the fish ladder – a steelhead entered the Crooked River without human help for the first time in more than 50 years. In the months since, 28 steelhead have gained safe passage.
In addition to Kleinschmidt, the Deschutes Valley Water District's collaborators also included Otak, JACOBS and RSCI Group, and partners the Oregon Department of Fish and Wildlife, the Oregon Watershed Enhancement Board, the Oregon Water Resources Department, the U.S. Bureau of Land Management, the National Oceanic and Atmospheric Administration, the U.S. Bureau of Indian Affairs, the Confederated Tribes of Warm Springs, Trout Unlimited, Portland General Electric, Energy Trust of Oregon and Deschutes Partnership.
Finlay Anderson, who managed the project for Kleinschmidt noted that "this effort benefited from a strong culture of collaboration and problem solving in the Deschutes Basin by stakeholders who have been working to improve habitat and support the reintroduction of anadromous species."
"As the project owner, we have experienced firsthand the benefits of assembling a strong project management team to organize and prioritize the various stakeholder interests and support the interconnected organizational relationships over the extended duration of the project," says Joel Gehrett, General Manager, Deschutes Valley Water District.
"So much can be accomplished when partners join to achieve a project, and the Opal Springs fish passage is a stellar example," says Oregon Department of State Lands Director Vicki L. Walker.
The 2020 Oregon State Land Board awards were presented at a special virtual ceremony on Oct. 13, 2020. The Land Board Awards honor exceptional projects for their contributions to protecting and enhancing Oregon's treasured natural resources.
 About the State Land Board and the Department of State Lands:
The State Land Board consists of Governor Kate Brown, Secretary of State Bev Clarno and State Treasurer Tobias Read. Established by the Oregon Constitution in 1859, the Land Board oversees the state's Common School Fund. The Department of State Lands is the Land Board's administrative agency, managing the lands and resources that help fund Oregon's public schools and protecting the state's waterways and wetlands for the many benefits they provide.
Source: Kleinschmidt Associates