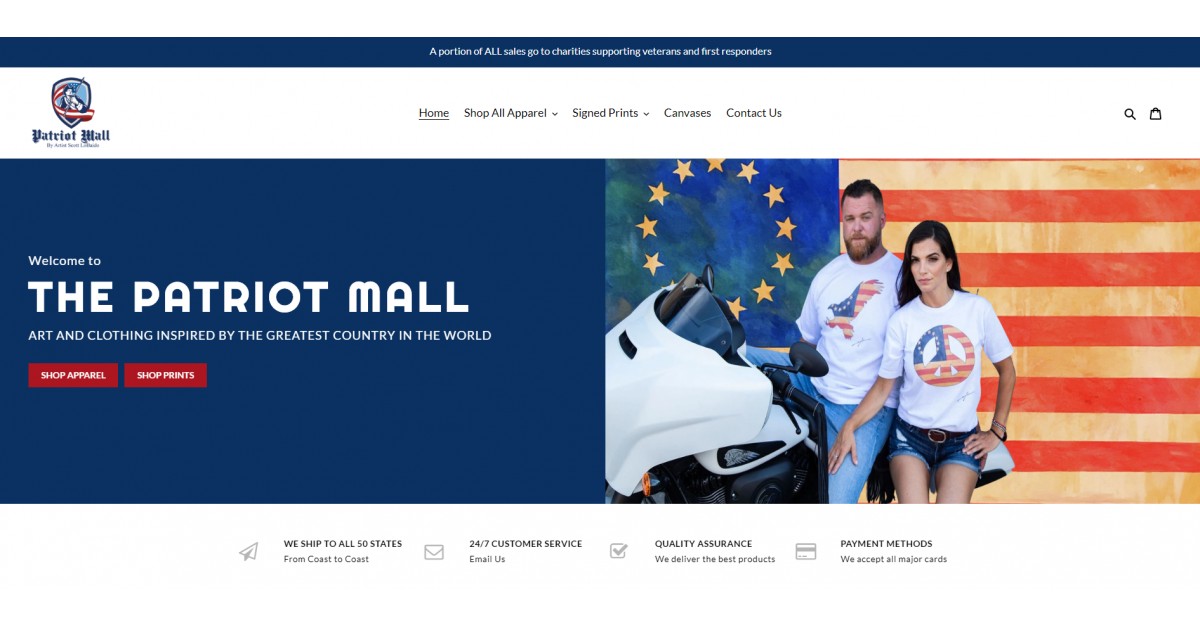 Patriot artist Scott Lobaido, known best for his portraits of the American flag across all 50 states, grants The Patriot Mall exclusive rights to sell his artistic depictions on wearable gear and everyday items.
Press Release – updated: Sep 23, 2020 12:00 EDT
NEW YORK, September 23, 2020 (Newswire.com) – New York City-based artist Scott LoBaido has been making headlines for the past several years as a vocal supporter of the NYPD and of conservative issues. Additionally, he has been in the news for his public criticism of Mayor Bill de Blasio and for painting a "Thin Blue Line," on Hylan Blvd, one of Staten Island's main roads, during this past July.
Scott LoBaido, and his art, are nothing new to Americans across the country. In fact, he has been creating patriotic art pieces for over 25 years, and many of his pieces have been featured on news stories. LoBaido is perhaps most famous for his paintings and murals of the American flag. He has painted the flag on just about as many mediums as one can imagine – canvases, walls, and even the facades of buildings. If you are driving around the United States and see a mural of an American flag there is a strong possibility that Scott LoBaido is the artist behind the painting. 
As a proud American, proud supporter of law enforcement, and proud supporter of President Trump, LoBaido made the decision to utilize the platform that his art has given him to become a voice for these messages and ideals. LoBaido recently granted exclusive rights to The Patriot Mall to sell his art and patriotic gear on their website. The Patriot Mall, gives the artist a centralized location through which he is able to connect with like-minded individuals and expand the reach of his art and his message. Much of the art on The Patriot Mall's website features depictions of the American flag, President Donald Trump, or pro-law enforcement messages. The site features an assortment of patriotic gear, ranging from prints to canvases, apparel, and accessories.
Anybody wishing to support Scot LoBaido in his effort to spread patriotic messages through his art can do so by visiting The Patriot Mall website and purchasing some of the patriotic gear and American flag art that is available.
​Press Release
September 21, 2020
Contact: Leticia Remauro 718 354-6032 Leticia@TheVonAgency.com or Scott LoBaido 917 325-9481
Source: The Patriot Mall