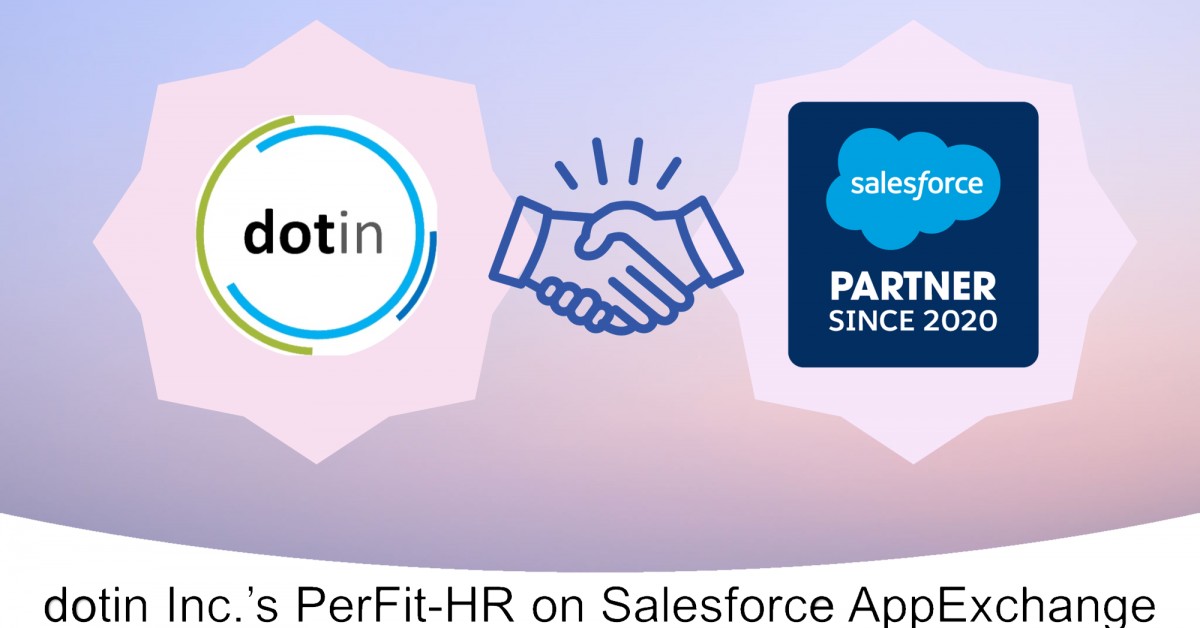 dotin Inc.'s customers can now benefit from AI Powered Talent Analytics and Engagement
Press Release – updated: Sep 9, 2020 15:00 PDT
SAN FRANCISCO, September 9, 2020 (Newswire.com) – dotin Inc. today announced it has launched PerFit-HR on Salesforce AppExchange, empowering customers to source, screen, and engage top sales talent in real-time. PerFit-HR is a business to business, artificial intelligence, SaaS platform that aids in the hiring and retention of talent based on critical AI-driven insights.
Built on the Salesforce Platform, PerFit-HR is currently available on AppExchange at Click HERE.
PerFit-HR
The PerFit-HR app assesses the interpersonal decision-points and core motivators of potential and current talent to align employees to the right opportunities. In a recent case study produced in conjunction with Tata Consulting Services, the dotin team showed a 2.5x average sales quota increase and a 60%-80% reduction in hiring biases when using the PerFit-HR app. With the launch of the PerFit-HR app on AppExchange, dotin is hoping to serve a wider group of users at a time when it's needed most, removing barriers to access with real-time enablement.
Comments on the News
●      "The PerFit-HR app launch on AppExchange comes at a critical time. The COVID-19 pandemic has left teams, companies, and entire industries especially vulnerable," Ganesh Iyer, CEO, and Founder of dotin, elaborates. "Enterprises are beginning to hire again, and sales numbers have been lagging in the wake of the COVID-19 pandemic. Our app sources through our 480 million users, screen the talent, and puts the best-aligned candidates at your fingertips to improve sales."
●      "PerFit-HR is a welcome addition to AppExchange, as they power digital transformation for customers with AI-enabled talent analytics and insights," said Woodson Martin, GM of Salesforce AppExchange. "AppExchange is constantly evolving to enable our partners to build cutting-edge solutions to drive customer success."
About Salesforce AppExchange
Salesforce AppExchange, the world's leading enterprise cloud marketplace, empowers companies to sell, service, market and engage in entirely new ways. With more than 6,000 listings, 7.5 million customer installs and 90,000 peer reviews, it is the most comprehensive source of cloud, mobile, social, IoT, analytics, and artificial intelligence technologies for businesses.   
About dotin Inc.
dotin's cognitive insight Artificial Intelligence (AI) platform, PerFit-HR, helps business clients source, screen, and engage the right employee/talent for their workplace, without asking a single question. PerFit-HR is an AI-enabled platform designed to capture the digital personality of potential candidates and deliver insights and analytics to managers. Clients have noted up to a 60 percent increase in hiring efficiency using dotin's platform or double-digit improvements in talent productivity and retention. More Information: https://dotin.us
Media Contacts
For more information, please contact dotin Inc. at info@dotin.us
Source: dotin Inc.