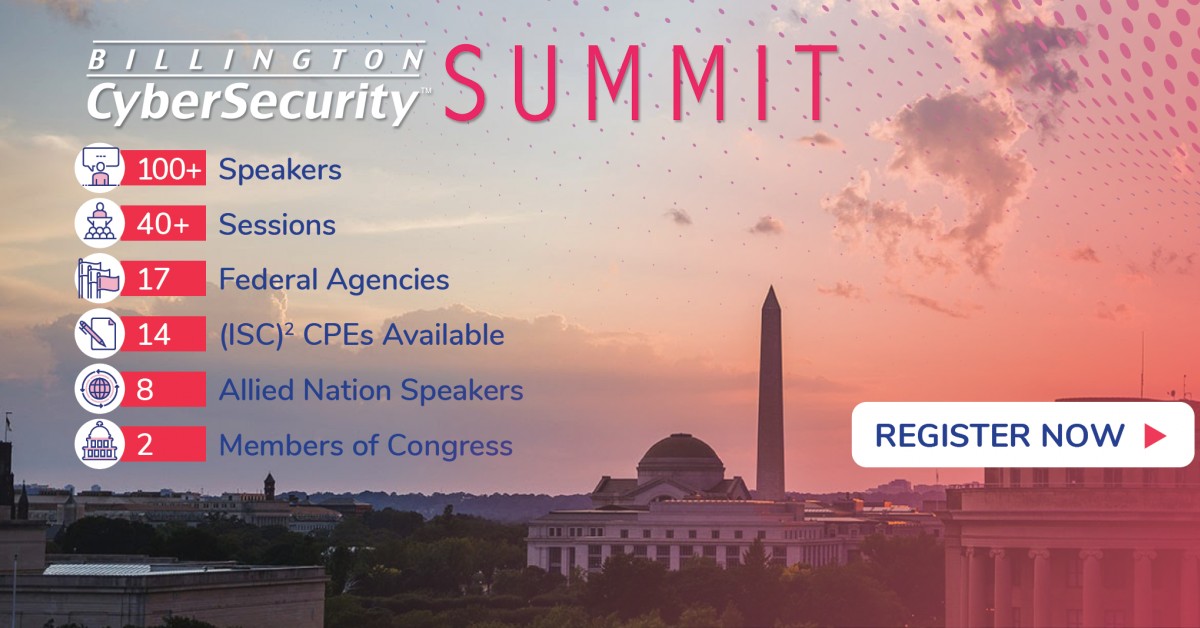 Five Eyes & Federal Cyber Experts Among 100+ Speakers, Including Senator Mark Warner (D-VA), Karen Evans (DHS), Nand Mulchandani, (JAIC), Dr. Stacey Dixon (NGA), Chris Krebs (CISA), Dana Deasy (DOD), and More. **Registration for PRESS Closes 9/4**
Press Release – updated: Sep 4, 2020 17:56 EDT
CHEVY CHASE, Md., September 4, 2020 (Newswire.com) – The world's leading government cybersecurity summit, the 11th Annual 2020 Billington CyberSecurity Summit (now Virtual!), takes place September 8th-9th.
The agenda will feature an unprecedented speaker lineup of global cybersecurity experts and U.S. Public Sector executives. With 100+ speakers in the program, you will hear from a veritable "who's who" of cybersecurity influencers, among them 3 Members of Congress, representatives from the Five Eyes countries, and 17 Federal Agencies across 40+ sessions.
By transitioning this year's event from in-person to digital, the 2020 Billington CyberSecurity Summit is expanding the opportunity for senior-level cyber speakers to convene and reach a global cybersecurity audience.
REGISTRATION FOR PRESS Closes September 4th REGISTER HERE.
For a run-down of topics to be discussed, check out the FINAL AGENDA.
Final Speaker List:
Government/Military
​Alexander Gates, Office of Cybersecurity, Energy Security and Emergency Response (CESER), DOE
Beth Flanagan, Director, Office of Diversity, Inclusion and Equal Employment Opportunity, NGA
Brett Goldstein, Director, Defense Digital Service
Brian Gattoni, CTO, CISA, DHS
Bryan Ware, Assistant Director for Cybersecurity, CISA, DHS
Chris Cleary, CISO, Department of the Navy
Chris Krebs, Director, CISA, DHS
Cynthia Mendoza, Acting Deputy IC Chief Information Officer, IC Chief Architect, ODNI
Dana Deasy, CIO, DOD
Daniel Holtzman, Cyber Technical Director, US Air Force
David Spirk, Chief Data Officer, DOD CIO
Dr. Stacey A. Dixon, Deputy Director, NGA
Gerald Caron, Director, Enterprise Network Management, U.S. State Department
Representative James Langevin (D-RI), U.S. House of Representatives
Jerry Cochran, CISO, Pacific Northwest National Laboratory
Jessica Wilkerson, Cyber Policy Advisor, Center for Devices and Radiological Health, U.S. FDA
Joseph Stenaka, Executive Director, Information Security Operations/Chief Privacy Officer, Department of Veteran's Affairs
Karen Evans, CIO, DHS
Karlton Johnston, Vice Chairman, CMMC Board of Directors
Katie Arrington, CISO for Acquisition and Sustainment, DOD
Katie Gray, Partner, Investment Team, In-Q-Tel
Kevin Cox, Program Manager, Continuous Diagnostics and Mitigation (CDM) Program, CISA, DHS
Lauren Knausenberger, Deputy CIO, United States Air Force
LG Bradford Shwedo, USAF, Director, J6, Joint Staff, Pentagon
Maria Roat, Federal Deputy CIO, U.S. Office of Management & Budget
Matt Conner, CISO, NGA
Matthew Masterson, Senior Cybersecurity Advisor, DHS
Representative Mike Gallagher (R-WI), U.S. House of Representatives​
Nand Mulchandani, Acting Director, Joint Artificial Intelligence Center, Department of Defense
Nicolas Chaillan, Chief Software Officer, U.S. Air Force
Paul Cunningham, Deputy Assistant Secretary for Information Security, Department of Veterans Affairs
Dr. Ronald Ross, Fellow, National Institute of Standards and Technology
Senator Mark Warner (D-VA), Co-Founder, Senate Cybersecurity Caucus, U.S. Senate
Shane Barney, CISO, USCIS, DHS
Shannon Jackson, Deputy Director, Office of the Small Business Programs, DoD
Tonya Ugoretz, Deputy Assistant Director, Cyber Policy, Intelligence, and Engagement, FBI
Trevor Timmons, CIO, Department of State Colorado
Wendy Noble, Executive Director, NSA
Allied Government
Abigail Bradshaw, Director, Australian Cyber Security Centre, Australia
Andrew Hampton, Director General, GCSB, New Zealand
Arne Schönbohm, President, Federal Office for Information Security (BSI), Germany
​Arthur Sinodinos, Australia's Ambassador to the U.S., Australian Embassy Washington
Major General Marcus Allan Thompson, Head Information Warfare, Australian Defense Force
Paul Chichester, Acting CEO, NCSC
Rosemary Banks, Ambassador to the US, New Zealand
Scott Jones, Head, Canadian Centre for Cyber Security
###
For more information, please contact:
Tom Billington​
301-718-4483
tkb@billingtoncybersecurity.com
 
SOCIAL:      @BillingtonCyber​         #BillingtonSummit
Source: Billington CyberSecurity