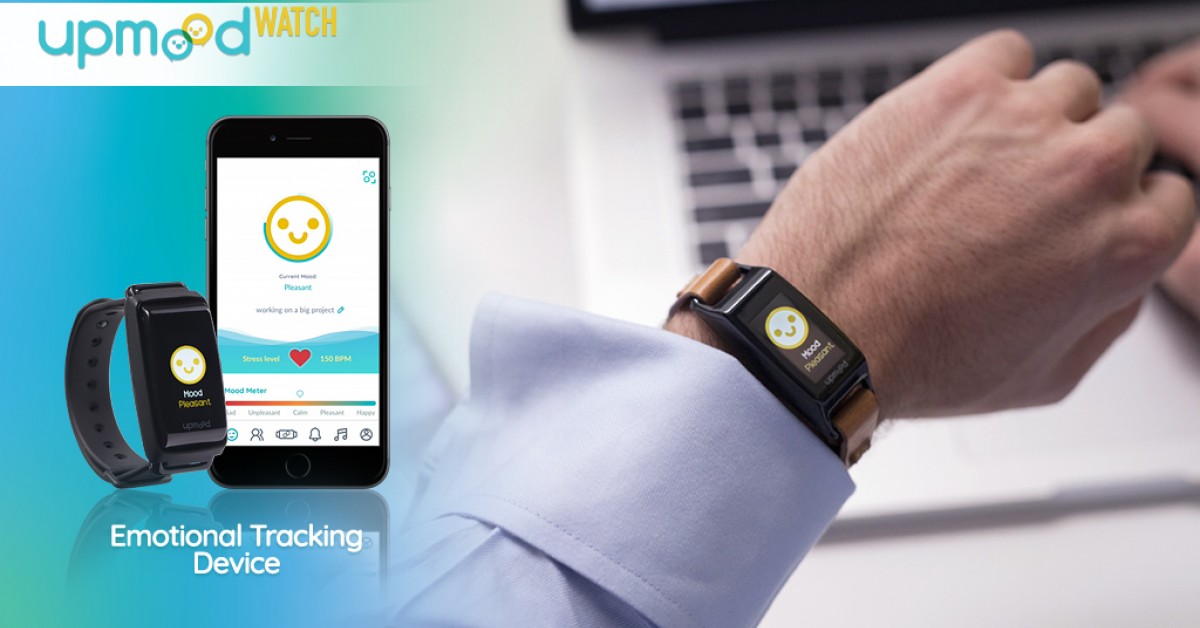 ​​Upmood Watch uses an advanced optic sensor to detect the body's signals and bio-patterns to reveal unparalleled insights into human emotions.
Press Release – updated: Aug 31, 2020 10:00 EDT
HONG KONG, August 31, 2020 (Newswire.com) – Wearable innovator Upmood has today launched Upmood Watch, the second-generation, emotion-tracking wearable designed to fully optimize emotional and physical well-being.
Upmood Watch is a lightweight, stylish smartwatch that uses an optic sensor to track heart rate variability (HRV) to reveal micro-patterns in behaviors and emotions with unparalleled accuracy.
Once detected, this in-depth biodata is translated into data and analyzed by the Upmood's intelligent companion app to help users understand and manage their emotional well-being and stress levels. 
The advanced biometric technology behind Upmood is based on more than four years of expert research by professors from the University of Hong Kong.
In total, Upmood Watch intelligently detects 11 emotional states, including anxious, calm, challenged, excited, and more. Upmood Watch then identifies emotional triggers to give users actionable insights to boost their mood.
Among its many benefits, Upmood's research-backed technology has been shown to help strengthen relationships, increase productivity, and promote more restful sleep.
Further, drawing on the power of music to impact emotions, the Upmood app features Moodmix, an AI-powered music player that automatically builds playlists to match your mood.
Through an exclusive collaboration with the world's leading music catalog, Universal Production Music, Moodmix uses music featuring Delta, Alpha, Beta, and Gamma waves to enhance your emotional state.
Upmood Watch is the second generation of Upmood's emotion-tracking technology. In 2016, the company released Upmood Band, which has helped thousands of people around the world better understand and manage their emotional well-being. 
Upmood founder Charles Lo said: "The technology behind Upmood Watch is truly revolutionary. It allows people to track, understand, and manage their emotions on a level never before seen. Given the unpredictable times of today, Upmood Watch has the potential to provide invaluable support for emotional awareness and well-being."
For a limited time, Upmood Watch is available at the special pre-launch price of US $89. The product launches on Kickstarter on August 28, 6 a.m. ET, with full-scale production scheduled for later in 2020.
Click here to visit the Upmood Watch Kickstarter Campaign: https://bit.ly/32vk5V7
Download the Upmood Watch PRESS KIT: https://bit.ly/2EoICDv
Upmood Watch Features
Mindfulness & Mood Enhancement

Emotion Tracking

Sleep mode

Lover's Mode

Fitness tracking

Compatible with iOS and Android

Bluetooth connectivity

Interchangeable polyester strap

PPG sensor

Li-polymer battery

Battery life: 48-hour standby time, 12-hour active 
-ENDS-
About Upmood
Upmood uses advanced biometric technology to help change the way people know themselves – and each other. Our mission is to connect people more meaningfully by nurturing relationships and breaking emotional barriers by promoting the value of your emotions through emotion-driven data. 
For more information visit: https://upmood.com/
​Contact: Charles Lo
(+852) 91338787
hello@upmood.com
Source: Upmood